Discover the conditions for car hire in Batumi Naniko
Located in the picturesque region of Georgia in Adjara, on the Black Sea littoral, Batumi is the center of the region and today many consider it as the European Las Vegas. This urban renewal project was planned and implemented in recent years, as a result of which the city has become a sought-after in terms of international tourism. Here come to rest and for entertainment Turkish, Russian, Ukrainians, and others who choose Batumi for their summer holidays at low cost. Beautiful nature, numerous historical and cultural attractions, great food and wonderful beaches attract travelers of different categories and from different countries. Strolling along the famous Batumi Boulevard, can see the attractive Statue of man and woman, symbolizing love and being in constant motion due to the internal mechanism.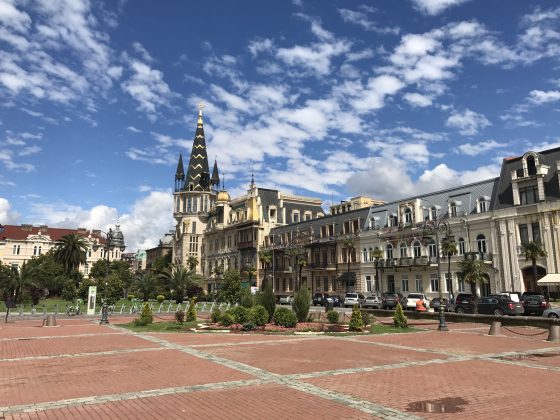 In the vicinity of Batumi, as well as in the city there are many interesting places to visit, and the issue of movement in order to achieve any place very effectively can be solved with the help of services of car rental in Batumi. This service is very popular, especially during the summer season and, therefore, recommended to book it in advance via the website of Naniko and get the cheapest price. Moving on unfamiliar territory by car, do not miss the sight of paying attention to the road signs and inscriptions, which may differ from those in your country.
The cost effective rent a car in Batumi from Naniko is the ideal way to explore the region!
When booking your car in advance you can get from us the discounted rates, which are already taken into account local taxes and the cost of compulsory insurance. We must also take into account the fact that the choice of vehicles will be wider. Thus, without leaving the house, you can easily provide yourself with a comfortable and suitable movement means, receiving a lot of advantages.
In most cases, companies for rent a car offer the possibility of receiving the auto only in their rental offices. We provide a car to any address that you specify when booking, to the airport, to the place of residence or the other. Return can also be possible in any place convenient for you, and also in another city or in another country, pre-aligning the matter with us. In each case, will operate the proper rules.
In cooperation with us, you get a complex of excellent service, a huge selection of both vehicles and service packages, the best price on the market, safe, fast and convenient method of booking through our Internet portal.
Here you will get the opportunity to choose a variety of accessories for more convenience and additional options, which include child seats for the car, GPS navigation systems, an additional rack, snow chains for safe driving in winter, and more.
Across Georgia, as in many countries of the world, we have in the presence the numerous offices and rental stations, so you can easily implement a linear path by one-way car rent, and return the car at the final destination of your journey. You can also take a trip to another country, informed us of such intention in advance and received the relevant document that allows crossing the country's borders in a rented car.
Compare with one click deals on car rent in Batumi and select the lowest fares from Naniko!
Today our services are provided in many countries around the world, and our sites are available in different languages. At your service is always our highly qualified staff, ready to provide you with the necessary information and, if you require, help in selecting a suitable package of services and related products.
Initially, you get unlimited mileage, which helps to ensure that in complete freedom and without additional costs you can travel on any routes.
Also read