Search for car rent in Baku with Naniko
In recent years, the capital of Azerbaijan Baku has established itself as a widely sought-after tourist destination due to the fact that this cosmopolitan city contains a lot of the real treasures of historical and artistic value and unique atmosphere for living. This city has the Caspian Sea coast and thanks to the temperate climate, the temperature almost never drops below the freezing point at any time of the year.
Baku is disposed on the Absheron Peninsula, it is a metropolis with a population of over two million people. In the city you can admire the unique architecture, among the major buildings that leave you breathless is the Maiden tower of height of 29 meters, built in the twelfth century, with a height of which offered the amazing views of entire city. Strolling through the narrow streets of the historic center, you can visit the many shops and typical workshops.
To feel the most free in the choice of routes for travel, it is best to rent a car in Baku through the website of Naniko and simply and without hassle reach any destination. Our company will give you the key to the discovery of the world and because the cost of living is increasing every year, no one will refuse an opportunity to save their money with low prices for car rental services provided by us.
Start your journey here with Naniko and rent a car in Baku at a super low price!
Booking in advance, at the time of your arrival, your car will be waiting for you in full readiness. For selection of your desired car you will not have difficulty using our unique booking system, where with a convenient filter for a few minutes, you will find your desired vehicle. For more flexibility of moving through the city streets, we provide with the range of compact and economical cars, there is an elegant model for those who attend special events or business travelers, you can choose a comfortable minivan for a family vacation and much more, according to your needs.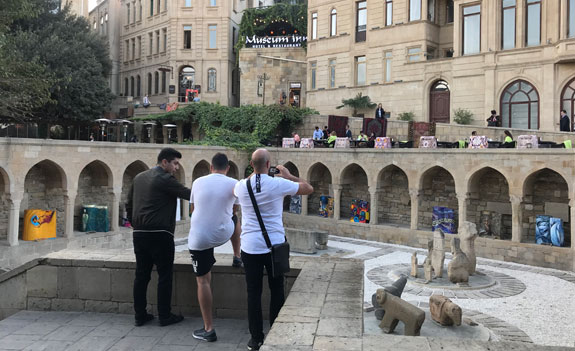 We always form the lowest prices on the basis of market research and provided tariffs already include the cost of insurance and taxes, offered unlimited mileage and you always get free roadside assistance during emergency situations.
Because in Baku in any season climate is suitable for travel, car rental services are always in demand, so it is advisable to book car hire in advance. And also because it is often in different time periods we offer special conditions at very competitive rates, deals and significant discounts that allow you to save even more.
For the reception of auto and registration of rental agreement the tenant must provide with personal documents in accordance with the required standards. It often happens that also required the international driving license and in each case you will be able to get the information from our operators.
Feel all the convenience of traveling by car rental in Baku, received on special rates from Naniko!
Our vehicles ordered from a reputable manufacturer and are always in excellent condition and equipped with all the necessary amenities for a pleasant and comfortable journey. But for greater security and the special needs of customers, we also offer a choice of additional services and accessories, among which are the navigators, luggage basket, children's car seats, winter accessories and more.
You do not find here any hidden costs. The cost of each additional service is always available in the appropriate section.
To make changes in the order or cancel it, try to keep within the period of two days before the commencement of the lease, in which case the procedure is free of charge.
Our goal and desire is to provide our customers with excellent quality of services in reasonable relation to its cost, and the possibility to use our services all over the world. Thank you for your choice and we wish you a pleasant and safe journey.
Also read