Excellent conditions for car rental at the airport of Kutaisi with Naniko
Kutaisi is the second largest city in Georgia, and also the capital of the western region of Imereti. The city is served by an international airport, located in Kopitnari, 14 km west from Kutaisi and in the international aviation system noted with IATA code of KUT. Airport officially named in honor of David the Builder, the great ruler of the Bagrationi Dynasty, which governed Georgia from 1125 to 1089. Today, the airport has an ultra-modern structure, which was opened after the reconstruction in 2012. The runway is 2,600 meters of long and fully meet modern standards. The airport terminal has an impressive area and is equipped with all necessary services for travelers.
The entire region of Imereti is full of numerous historical and cultural monuments, and to achieve most of these sites it would be wise to use the car rental services in Kutaisi airport. You can easily discover new places, getting car rent by Naniko at the cheapest rates.
Take a car rent at Kutaisi airport by Naniko and get ready to explore the city in complete comfort!
Using our simple online reservation system and a wide range of vehicles, you can reserve on-line the right vehicle for the period you need. In fact, if you have any questions during the booking process, you can contact our operators by phone and our qualified specialists will provide you with more information.
Here can be listed the many benefits and advantages, why the majority of our customers choose us and stay for many years, our regular customers:
Reservation is feasible in a few simple steps;
We have available an extensive network of offices throughout Georgia and abroad, in most countries of the world;
Our fleets are always equipped with modern cars with all the amenities;
In all our offices, our staff will provide you with impeccable service;
Competitive prices offered by us include taxes and costs of compulsory motor insurance.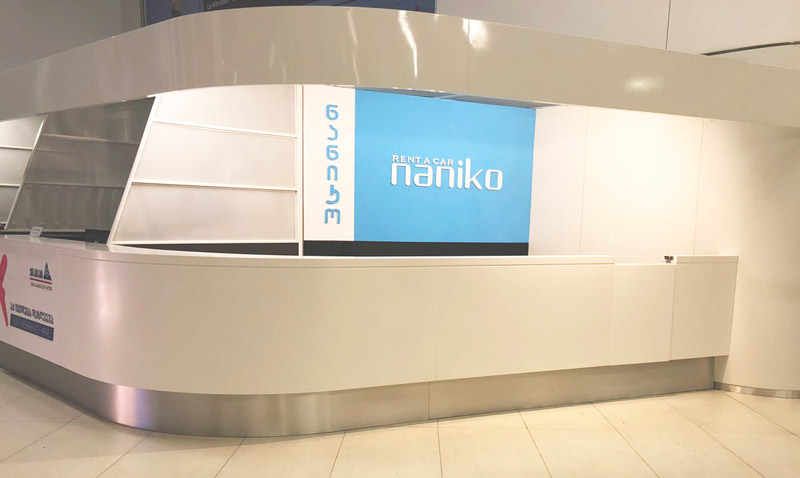 Selection of vehicles is really extensive and whatever your style of travel, you can choose by us the car in which you will feel as comfortable as possible.
We are well aware of the importance of the safety of our customers and therefore provide a range of support tools designed for a different style of travel. So, for travel in the winter offered a number of accessories that will secure your ride on snow-covered roads.
Child seats are offered of highest quality and can be selected according to weight and height of your child. Also available navigator with updated maps, luggage baskets, holders of sports equipment and more.
To rent a car there is an age limit and the tenant must be at least 21 years old and possess a driver's license for at least a year.
Use the maximum of all the best deals from Naniko, to rent a car in Kutaisi airport!
Various packages are offered in order to satisfy the demands of all our customers, whether private or corporate client. You can choose a short or long-term lease, a one-way rentals, corporate or operational leasing and more.
There are special packages for companies of all sizes that require a certain number of vehicles. In this case, as longer as the lease period, the price will be cheaper. If you need more cars for your corporate needs, Naniko will provide services fully tailored to your needs.
Payment method for the ordered services can be selected at your discretion, on-line or by personally during the reception of the vehicle, using a credit card or in cash, in accordance with the legislative regulation.
Also read